When a city can't manage its waste efficiently, it quickly becomes unlivable. That's why Prometheus and TomTom are working together to make this process as seamless as possible for the fleets that keep our cities clean and in working order.
In the Netherlands, segregated waste is collected either from the curb side or from underground containers by the road. But what if collectors weren't able to tell if these containers were filled to the brim, or if they lost track of where some containers were?
Prometheus helps fleets avoid these situations by offering fleet management solutions tailored to the waste management industry.
Collecting trash from garbage containers isn't as simple as it sounds. Drivers need to route their trucks to containers around the city, lift them up from the ground, identify the type of trash in each full container and store it accordingly.
This process becomes easier and simpler when informed by accurate and precise data. Enter Prometheus' waste management solutions, which seamlessly connect back-office operations to mobile software in trucks.
Refreshing the partnership
Prometheus originally started using TomTom BRIDGE to power its waste management solutions. Integrating TomTom navigation in its product not only made it easier for its customers to optimize their fleets, but also appealed to drivers as it provided them with an interface they knew and preferred.
When TomTom BRIDGE was discontinued in 2018, however, Prometheus had to switch to a different solution provider. The recent release of
TomTom's Navigation SDK
gave the company the welcome opportunity to become the first partner to adopt this technology.
During the testing phase itself, Prometheus was given access to the Navigation SDK and relevant APIs, along with direct support from the team. This meant the solution was developed quickly, with the first solution rolled out to their first customer in as little as 10 weeks.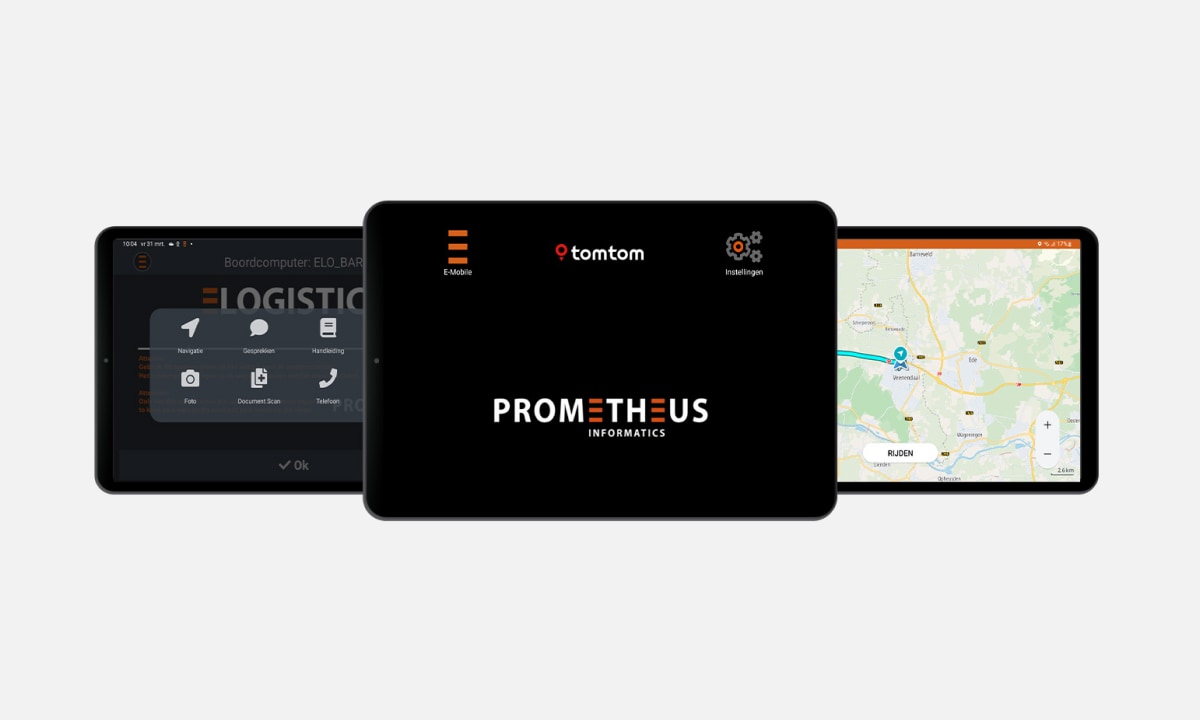 Navigating towards cleaner cities
With the TomTom Navigation SDK integrated into Prometheus' waste management platform, fleets enjoy a real-time connection between back-office operations and the mobile software in their trucks (Android tablets in this case).
But it's not just fleet managers who benefit from this partnership — drivers who are TomTom loyalists and favor its user-centric interface and live traffic prefer this solution over any other. Among other things, features like weighing systems, lifts and radio frequency identification (RFID) container recognition help drivers identify and track containers faster, saving valuable time.
The
Navigation SDK
also allows fleets to program fixed routes as part of their navigation, for example routes based on garbage pick-up points rather than traffic conditions.
With TomTom and Prometheus' joint solution, every step of the process is made easier, helping fleets manage time, money and of course, waste.
"
Peter van Renterghem
General and Technical Director, Prometheus Informatics 
Copyright © 2023 TomTom International BV. All rights reserved.